"PayLeap was quick to reply, courteous, friendly, personable and just a pleasure to talk to."
PayLeap's solution is perfectly tailored for small and medium businesses. We are trusted by thousands of merchants to grow their business.
Join the conversation with other PayLeap merchants on facebook.
Thank YOU PayLeap! I appreciate the "FABULOUS" customer service you provide to me and my business. You are Truly Amazing and I am a Raving Fan!
– Monica Nielsen, Hair Extensions by Monica
Just have to say, Amanda M. of your Critical Support staff was incredible with helping our online store resolve a problem before our Black Friday sale. Thanks PayLeap.
– Kevin Kaneshiro
Thanks to PayLeap for their great customer service! We've been very impressed with how quickly you respond to our needs. It's refreshing to deal with friendly businesses. Thanks and keep up the great work!
– Rent Orlando Vacation Homes
Great customer service… They're always there to help and make it easy for us to run our businesses.
– Eliza May Villanueva, Shumway
Payleap's customer service has eliminated many headaches and brought clarification to issues that would have otherwise taken up a lot more of my time.
– Cynthia Braren
Payleap made the eCommerce choice for merchant services easy. Their helpful customer service has been great to work with.
– David Alexander
"They exhibit the core standard for customer service and I wish that every companies did the same."
– Marie Switzer
Payleap was super easy to set up and has been equally functional in the 12 months we have been using their services. I really like the new daily sales deposit summary I am getting too, it makes accounting much easier.
– Tognar Toolworks
"We found PayLeap's bundled solution was not only a breeze to set up, but also an excellent value!"
– Mike Redding, Seattle, WA
PayLeap is the easiest merchant credit card processing company I have every used. It's super quick to set up and is inclusive of everything you need for an e-commerce website.
– Lisa Porter
We've been in E-commerce for a long time using a number of other payment processors in the past. It wasn't until we hooked up with Payleap through BigCommerce that our business really took off.
– Jordan Reiss
The rates are easy to understand and give you the choice of plans depending on your companies' size. Can you say fraud protection…AVS, CVV and adjustable settings let you select what level works for you. Thanks for the GREAT service.
– Steve, HQ98.com
"PayLeap's customer service was super helpful and professional, and I would recommend any business to try them."
– Joe Haddad, universitees.com
We absolutely love PayLeap. Once we switch to a new platform and we discovered it integrated with PayLeap, their awesome staff and hassle free software led us to focus on what matters, sales.
– KidForever.com Miki Vicioso Cocco
"The whole experience with PayLeap was very relaxed and was a breath of fresh air."
– Bryan Sullivan, Sullivan Design
"PayLeap was quick to reply, courteous, friendly, personable and just a pleasure to talk to."
– Jeffrey Taylor
Payleap is simply great – Straightforward, easy to navigate and understand, supercool features, and great customer service (helpful and expedient). Our little company made a solid choice going with PayLeap – It's been a major component in helping us build our brands.
– Seth Minteer, okllo.com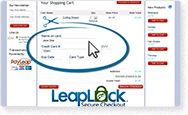 Start Processing
Payments Today!