"We found PayLeap's bundled solution was not only a breeze to set up, but also an excellent value!"
The PayLeap Referral Program provides you a great revenue stream, technical solutions with seamless integration, and a huge value for your clients. We'll even do most of the heavy lifting of establishing and setting up the account as your partner. You make the introduction and we'll build the relationship. But don't just take our word for it. Get started and see for yourself today.
PayLeap has a rocking affilitate program
Revenue sharing and joint marketing opportunities.
Lifetime residual revenue with unlimited potential from both gateway & merchant account (including credit card and ACH) streams.
Single point of contact for gateway, credit card and ACH services.
Co-branded or personally branded portal with your logo designed for your users.
Customized landing page presents the PayLeap solution and bundled offer.
Easy integration with existing business.
Highest level of security available.
Support for our affiliate partners includes:
Support for all programming languages along with the latest hardware available.
Real time posts and responses.
Rich and dynamic web service for customized functionality
Free features such as automated recurring billing, fraud controls and risk customization.
Integrated with many shopping carts.
Integration to transaction processing hardware (POS, check scanning, kiosk, mobile)
Complete API reporting tools.
Sample code and documentation with free technical support.
The PayLeap Affiliate Program is ideal for organizations who sell products or services that can be integrated with electronic payment processing services, but do not typically provide end user support. Our affiliates benefit from a generous revenue sharing program; our program creates a residual income for developers and dealers who integrate PayLeap into their clients' sites. Since it's easy to integrate and use, our single solution is a great choice for developers and their clients, especially with the added incentives of our affiliate program.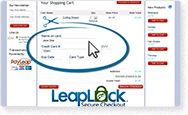 Start Processing
Payments Today!